This section doesn't currently include any content. Add content to this section using the sidebar.

What are Story Stoles?
Story Stoles are special. Not only are they graphically memorable, each stole shares a story from Scripture that corresponds with the liturgical church calendar. Every stole is handmade with love using beautiful and vivid materials. We make our stoles in small batches; therefore, every stole is unique and only available until they sell out for the season. The colors and fabrics used for each design are similar but may vary in either hue or print.
Our Signature
Every Story Stole comes complete with its own Scripture verse embroidered on the back collar of our pastor stoles and on the back tail of our deacon stoles. Use this verse to share the story of God's love with your congregations and community!
Every Stole is Ready to Ship!
We do not sell our stoles until we are done sewing them. Purchased stoles can ship right to your home or church in as little as 3-4 days! *International Shipping Varies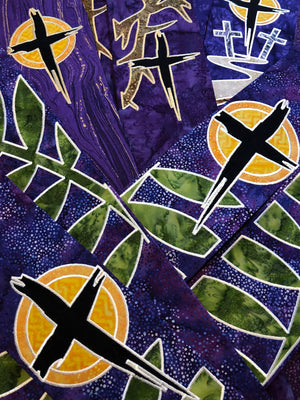 Quality is Our Passion!
We make our stoles in small batches; therefore, every stole is meticulously crafted to ensure high quality and long lasting stoles.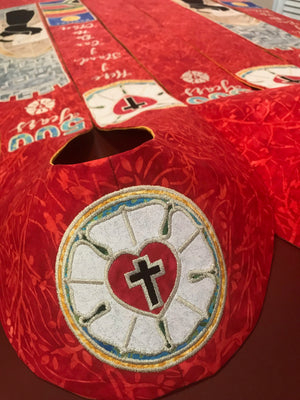 Visit Us Often!
Check back for new collections as the seasons change. We make each design in small quantities, so you don't want to miss out!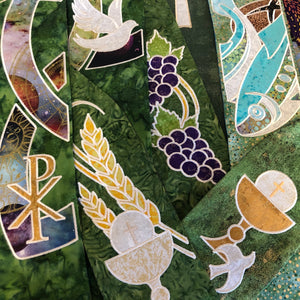 I've bought three stoles from Story Stoles this year, plus a fourth for an ordination gift. I think the fit is great, they stay in place, they make a statement, they arrive packaged beautifully, customer service is exquisite, generous and immediate. A great product and company. Grateful.

Rev Dr Christine C.

Fort Worth, TX
"The pictures do not do the product justice. Truly works of art. My congregation and I will treasure the stole and its story for years."

Rev Teri C.

Bloomington, IN
"I really like it. And... I am so impressed with the fit! It lays flat on my neck and shoulders. Blessings to you and your sister as you transition into this elegant ministry."

Rev Dorothy C.

Tigard, Oregon
"I LOVE IT!  It is sooo beautiful. I have received so many compliments on my stole. It has for sure become my favorite."

Rev Casey T.

Loomis, CA
"I always get so many compliments when I wear these stoles! They are comfortable, beautiful, and I don't have to worry about them being too long! Also, they are very durable for when I travel and I can use them as great visuals for my children's sermons. Thanks Story Stoles!"

Rev Jessie O.

Fairfield, MT